Public Services Canceled
We as a Pastoral Team, along with Congregational Chairperson, David Lapp, have made the decision to cancel public worship services for the next three Sundays as well as any other Lowville Mennonite Church activities. We are working on ways to stay connected with each other as well as continue to nurture our spiritual selves while we are not meeting. We will add information about our plan for alternative Sunday morning worship tomorrow. In the meantime, stay healthy and pray for those who are not.
Welcome!
The Lowville Mennonite Church staff and congregational members are pleased to welcome you. Our wish is that you feel comfortable and benefit from your experience.
We are a family-oriented congregation of approximately 250. Family to us means belonging, being accepted and having relationships similar to those of an extended family. Our program, instruction and activities are designed for all age groups and specifics are available.
In a typical Sunday morning worship service there is an active participation of congregational members. We realize that each church is unique and has its own traditions and our hope is that you will feel at ease with our practices. Information is often shared about church activities, prayer requests are regularly shared and it is customary to have some variety in our service.
Of primary concern to us is that you not only feel welcome but that your worship experience is meaningful. We believe God's promise that when His people gather together in his name He is present. We believe that He is eager to meet our needs and extend His grace to us. We wish you God's blessing as you continue to seek Him and we also offer our support to you if that is your desire. Thanks for visiting us.
If you have any questions, you may find our contact information on the Contact page.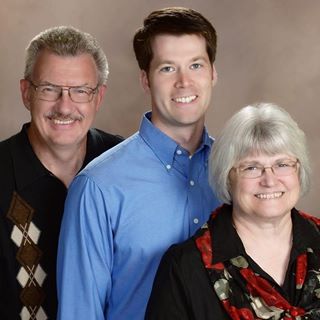 Keith Zehr, Lead Pastor; Adam Houser, Associate Pastor; Connie Zehr; Pastor of Care and Nurture
Keith Zehr, Lead Pastor
I am part Buckeye, Hawkeye, Cornhusker, and Jayhawk, but northern New York is where my ancestry resides.  My primary emphasis is God's love for all people regardless of origin or belief.   ~Keith Zehr
Adam Houser, Associate Pastor
I long to see people live whole, meaningful lives in Jesus Christ.  Being part of a church community is one aspect of that.  Our congregation is made up of people that are seeking to follow Jesus and to bring Jesus' love to everyone that we meet.  We encourage each other in faith and in life.  I currently live in the village of Lowville with my wife, Nicole, and our two young boys.  In addition to serving part time at Lowville Mennonite Church, I also work part-time as Adventure Education Director at Beaver Camp.   ~Adam Houser
Connie Zehr, Pastor of Care and Nurture
I am currently Pastor of Care and Nurture at Lowville Mennonite Church as well as the Church Secretary. My husband, Keith and I live in Lowville. We have three adult children, one (adult) son-in-law and three awesome granddaughters. I enjoy seeing the Lord work in the lives of those in the congregation and am blessed to watch the growth that takes place as we each strive to follow what is next for us. We can do great things!   ~Connie Zehr